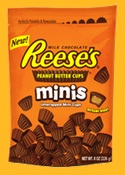 We saw email on a big (little) announcement from Reeses before CES started. It piqued my interest, for sure. So when we saw the booth, we knew that technology has taken a turn for the better.
Smaller Peanut butter cups with no wrappings.
Chris Pirillo was on hand to hand us a handfull of the handy chocolate – Peanut buttery goodness known at REESE'S Minis. They are bite-sized and come in a big bag, so your miniature appetite can be miniaturized by the miniature goodness.
we stopped to talk to Chris, who explained why REESE'S decided to launch the Minis at CES.
Interview by Jeffrey Powers of Geekazine
Get your 14 day Free Trial of Audible Gold to start Listening to great Books!
GoDaddy services saves you money! New Customers Save 25% Promo Code CES25.
Podcast: Play in new window | Download
Subscribe: Apple Podcasts | RSS | More