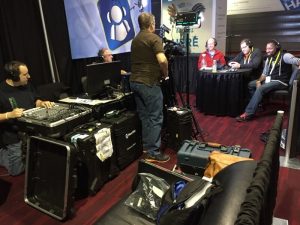 CES 2020 Live Broadcast Application
Please review this page very carefully if you desire to book a live broadcast appearance with Geek News Central, The Gadget Professor, PLUGHITZ Live & The Tech Ranch – all members of the Tech Podcasts Network.
2020 Broadcast Location is at the Sands
If you would like to appear at our live broadcast studio to demonstrate or discuss your new and innovative product or services, you are required to fill out the following form. Apply early as there are limited spots each day of the show.
All broadcast appearances are free but we do have sponsorship opportunities.
History
Tech Podcasts Network has had a presence at the show since 2005. From 2010 – 2019 we have had millions of viewer hours during our annual coverage and 100s of millions of views of our post-show published content.
Sponsorship
We have sponsor opportunities available and, in fact, our coverage would not be possible without those sponsors.
Application